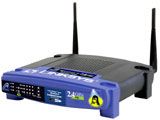 Configure your LinkSys for LinSpot

Surf to the LinkSys Setup pages. Default configuration is: at 192.168.1.1 and default way to login is to supply no username and 'admin' as password.
If the previous is still as the default, take this opportunity to change the password!
Click on the Wireless tab
Change the Wireless Network Name (SSID) to LinSpot
Click on the sub-section Wireless Security and verify if the Security Mode is Disabled
Click on the Setup tab
Below, in the Network Setup section, disable the DHCP server
Click on Save Settings. Your LinkSys is now configured for LinSpot
If other computers on your network are using automatic IP address assignment, go to the LinSpot Admin page and Enable Free Access for them.
What it means:
The configuration changes necesary to your LinkSys are minimal. All the current settings stay the same, only the distribut ion of IP addresses will be done by the LinSpot server now and WEP encryption needs to be disabled.
If this is already the case on your network, no further changes to the LinkSys are required.
Your LinSpot server will automatically distribute IP adresses on your local network in the same range and with netmask 255 .255.255.0

See our FAQ for more answers.